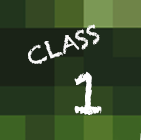 T 08/28

Intro to course, UI x UX Design
Theory: Principles of Interactivity & Usability
Project 1 | Worst of the Web
In Class
Homework
Go through Tutorial 1 | WordPress to create a WordPress free account and set up a new site.
Post your WordPress URL to the course Blackboard Discussion WordPress URL
Work on item 1 for Project 1 Worst of the Web and research a "Really bad site".
Create a new page on your WordPress site and post the URL of the "Really bad site" along with an image for the bad site, and write at least 5 relevance & interesting issues about the site.