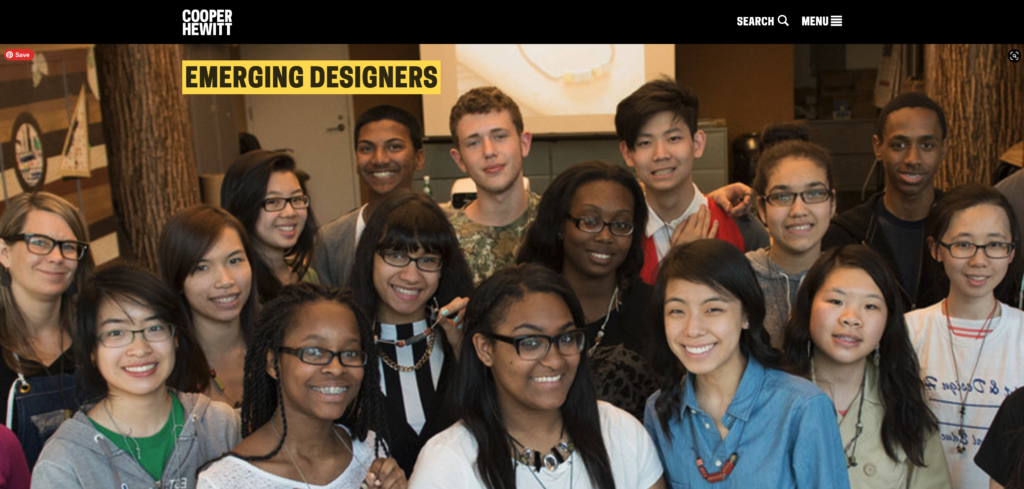 Yearly paid internship opportunity
DESIGN HIVE
Design Hive is a paid, youth-led initiative at Cooper Hewitt, Smithsonian Design Museum. Students ages 16-22 dive deep into design objects and processes to develop their own collaborative projects based on an annual theme. This year, Design Hive students will focus on using design as a tool for change.
In Design Hive, knowledge is co-authored. Students mentor one another and receive mentorship from working designers. They are offered unprecedented access to the museum's exhibitions, objects, and people, and use it to design a world that is more responsible, equitable, and collaborative.
Design Hive takes place on Thursdays from 4:30-6:30. Students must be based in the NYC area to apply. Participants must attend weekly program dates and be available to meet virtually or at Cooper Hewitt (2 E 91st St, New York, NY 10128).
The program begins on Thursday, November 18th and ends on Thursday, May 19th. Students will receive a stipend of $2,000 for their participation, paid in two $1,000 payments throughout the program.
Applications close Friday, September 24th, 2021. Submission of an application does not guarantee selection into the program.
Apply below:
https://www.trumba.com/calendars/design-hive
DESIGN SNACKS
Build your design toolkit! Design Snacks is a series of hands-on workshops exploring techniques and strategies for participants to incorporate into their own practices, classrooms, or organizations. Workshops are held the first Wednesday of each month starting November 3rd, 2021. Participants are not required to participate in all workshops.
No prior experience in design required. Recommended for ages 16+.
DESIGN CAREER FAIR
Each October, Cooper Hewitt hosts a virtual Design Career Fair series as part of our National Design Month celebration. Teens are invited to talk with top designers working in the fields of fashion, product design, architecture, graphic design, and more! Participants are encouraged to explore design careers, discover career paths, learn the complexities of what designers do, and find out what designers love about their jobs. Design colleges from across the country are also available to answer questions.
Past designers have included Tim Gunn, Cynthia Rowley, Isabel and Ruben Toledo, and designers from Facebook, Ann Taylor Loft, Kenneth Cole, Heath Ceramics, Milton Glaser, Smart Design, Pentagram, Rocawear, and Herman Miller.
Past design colleges have included Parsons, SVA, RISD, SAIC, CalArt, FIT, and Pratt.
Details for this event will be announced here.